Travis Tannahill is listed as one of the top
run-blocking tight ends in the 2013 NFL Draft
class. He's expected to be a late-round selection.
With the 2013 NFL Draft just two weeks away, several former Sunflower League players are busy prepping, with the hopes of being selected or picked up as a free agent in the weeks that follow.
The most likely draft candidates are Kansas State tight end
Travis Tannahill
, who played at Olathe East, and Western Michigan quarterback
Alex Carder
, who played at SM Northwest.
K-State safety
Jarard Milo
, who played at both Olathe North and Olathe Northwest, could possibly get a tryout with an NFL team as a free agent.
Tannahill was an integral part of K-State's combined 21-5 record during the 2011 and 2012 seasons.
After only catching nine passes for 140 yards in his freshman and sophomore seasons, Tannahill caught 33 passes for 388 yards and two touchdowns in his junior and senior years.
The 6-foot-5, 245-pound tight end left his biggest mark as a versatile run-blocker in K-State's zone-read attack. Current draft projections have Tannahill as a late-round draft selection, or a free agent signee.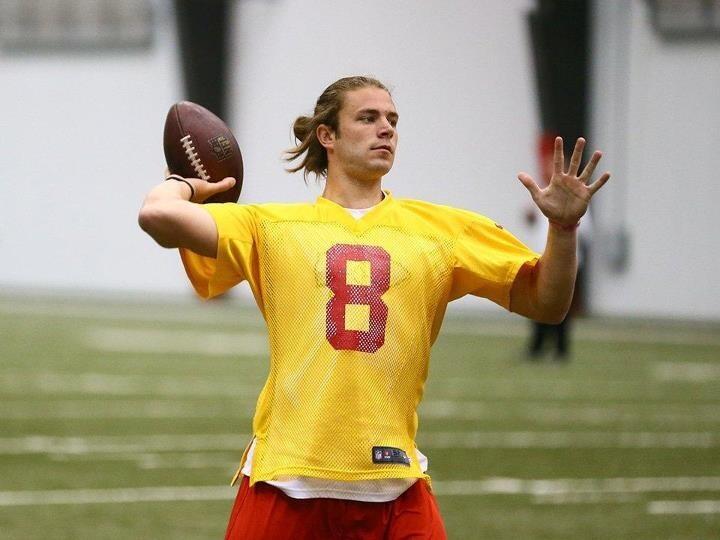 Alex Carder, seen above working out at the
Pro Day for the Kansas City Chiefs, might be
a late-round NFL Draft selection.
Carder didn't have quite as much collegiate exposure considering his team competed in a non-BCS conference, but the numbers he put up were nonetheless stellar.
After redshirting, then spending a year on the bench, he took over as the starting quarterback for the Broncos in 2010.
As a sophomore, he threw for 3,334 yards and 30 touchdowns with 12 interceptions.
His junior year he did even better, throwing for 3,873 yards and 31 touchdowns, with just 14 interceptions.
Injuries kept Carder out of six games as a senior, but he still managed to pass for 1,652 yards and 13 touchdown along with 10 interceptions.
The 6-foot-2, 215-pound Carder is being projected as a possible late-round selection or a free agent signee.
The third prospect, Milo, recorded 82 tackles and defended five passes as a starting safety for K-State this past fall.
The first round of the 2013 NFL Draft will be held on Thursday, April 25. The remaining rounds will be held that Friday and Saturday.