Olathe North's 2001 state title, above, was the
program's fifth in six seasons. Maurice Mack,
(#24) can be seen in the foreground holding the
trophy. LJWorld.
As we approach this Saturday's 6A title game between SM West (11-1) and Hutchinson (10-2), here's a look back at the previous 13 years of Sunflower League teams in title games since the start of the 2000s.
2000
Olathe North 42, Manhattan 7
Darren Sproles
, the Simone winner for the year, put up 281 rushing yards and five touchdowns on 28 carries as the Eagles rolled to their fourth state title in five years. Olathe North rushed for 396 yards on the day, jumping out to a 21-7 halftime lead, then scoring 21 unanswered points in the second half. Eagles quarterback
Bryan McCall
only threw two passes that day--but he completed both in addition to scoring on a nine-yard touchdown run. The Eagles' defense also played outstanding intercepting five passes--two by
Royal Whitaker
, in addition to
Jesse Gulotta
,
Matt Wiggin
and
Maurice Mack
each intercepting one apiece.
My Thoughts
:
People were wondering if Olathe North's domination was over after they failed to make the playoffs in 1999. They proved their doubters wrong by fielding arguably the best high school team the state of Kansas has seen in the last 25 years.
One fun stat: their defense intercepted 32 passes in 12 games, a state record that still stands in the Kansas high school ranks, even with the increase to 13-game seasons for state title teams in 2002.
2001
Olathe North 21, Manhattan 7
Led by Simone winner
Maurice Mack
's 171 rushing yards and two touchdowns, Olathe North completed the "Drive for Five" by absolutely stymieing Manhattan. The Indians were held to 51 yards of total offense and their lone score came after a fumbled punt return gave them possession at the Olathe North 25-yard line. The feather in the hat for Mack came when he completed a 10-yard pass to
Dallas Browning
for a touchdown.
My Thoughts
:
Olathe North's 2001 team might have had the best defense I've ever seen. They gave up a measly 5.4 points per game and handed out five shutouts. They were a heavy favorite to beat Manhattan and the took care of business in Mack's memorable last game as an Eagle. Manhattan really got a raw deal having to play these Olathe North teams in the title games in back-to-back seasons.
2002
Olathe North 41, Derby 12
Jim Bouknight
, Olathe North's third Simone winner in as many years, churned out 183 rushing yards and three touchdown for the Eagles who put up 382 rushing yards on the ground that day. Derby actually jumped out to a 7-0 lead, but a 60-yard run on an option keeper from Browning tied the game. Browning hit
Codi Willard
on a 42-yard touchdown pass on the next drive and the rout was on. The victory was Olathe North's 38th in a row, and
Gene Wier's
last with the program until 2012.
My Thoughts
:
This was a bigger game once it was over than before it was played. The general consensus was that Olathe North was going to roll Derby, much the way they did. Olathe North entered the 2002 season ranked 14th in the nation by one national high school publication and they played like it the entire year. It wasn't public knowledge that Wier was leaving for Texas and I couldn't tell you if the team knew anything before the game. But it was a big win--a classic Wier victory filled with tough defense and a wonderful rushing attack--in his last outing (at the time) with the program.
2003
Olathe North 28, Hutchinson 13
We didn't know it at the time, but this game was the start of one dynasty's return to mortality and the beginning of the other's road to prominence. Olathe North running back
Justin Gore
ran the ball 32 times and quarterback
Mike McCall
added 23 carries of his own. Three big interceptions--
Jason Gore
,
Dustin Moomau
and Willard each snagged one--proved to be the difference as Olathe North claimed their seventh title in eight seasons.
My Thoughts
:
Hutchinson really hadn't established an identity yet while Olathe North had the swagger necessary to beat anyone. I remember seeing Olathe North barely edge out a 13-6 victory over SM West in week two and thinking that Gore was an awesome back, but that they weren't state title caliber. Yet, anyways. Props to the Eagles. They entered the playoffs 6-3 and reeled off four straight dominant wins. This was the last state title game to be played at Kansas' Memorial Stadium in Lawrence.
2004
6A
Hutchinson 30, Olathe South 13
Olathe South actually scored first on a 16-yard pass from
Brady Croucher
to
Bryce Morris
--but, if you followed Olathe South that year you would know that scoring first for the Falcons was a bad omen. Hutchinson answered with 27 straight points to go ahead 27-7 entering the fourth quarter. The Salthawks smothered Olathe South's vaunted run-game led by
Devin Cummings
and
Tony Bryant
, limiting the Falcons to 25 yards rushing on 30 carries.
My Thoughts
:
We really didn't know how good Hutchinson was until they came out and soundly defeated Olathe South in this one. That Olathe South team was very good, led by skill position players like Croucher, Morris, Cummings and Bryant... Cummings and Bryant were two of the smallest players I've ever seen play (neither one could have weighed over 150 pounds in pads) but they were both extremely quick and fast. Hutchinson's complete and utter domination of Olathe South's running game was a huge statement.
5A
Salina South 21, Olathe North 14
Moomau explained the game firsthand in this
interview
from earlier in the month. Long story short, Olathe North jumped out to a 14-0 first half lead on a one-yard run from Moomau and a 33-yard pass from Moomau to
Randy Shepherd
. A Moomau injury in the third quarter shifted the tide, as Salina South reeled off two late touchdowns to force overtime. In overtime, Salina South scored a touchdown when their fullback fumbled a handoff, recovered it, then found an open tight end for a touchdown. Olathe North went four-and-out on their possession and the game was over.
My Thoughts
:
I distinctly remembering hearing about this loss. My family had driven to Denver for Thanksgiving Break. On the monotonous ride back that is I-70 through Western Kansas, my older brother received a phone call relaying that Moomau had gone done, Olathe North had lost, and that Olathe North's streak of titles was over. That was a stunning revelation because I hadn't ever seen such a well-oiled machine as that Olathe North team. It wasn't until I read the paper the next morning that I learned how things went down. Even without Moomau, I'm still shocked they weren't able to line it up and pound Gore between the tackles and ride out the lead to a victory. I still haven't seen a team play in person that was as impressive as what I remember from the 2004 Olathe North team.
2005
Hutchinson 24, Olathe East 7
It was a sad close to what would have been a storybook ending for Olathe East's three-year starting quarterback,
Derek Miller
. Miller completed 12-of-26 passes for 157 yards, but tossed four interceptions--matching the amount of picks he'd thrown all season. The wind was brutal that day making passing difficult
and
Olathe East couldn't stop the run to save their life. Olathe East trailed 17-7 at halftime and couldn't get anything going in the second half.
My Thoughts
:
Derek Miller was everybody's All-American. Admit it. A three-year starter with a 31-3 record heading into this title game. The Olathe News' Blitz magazine cover boy. His deferring a class ring in hopes of obtaining a state ring. The Jeff Meyers dubbed "top receiving unit in the city" of Adam Parks, Dorian Williams and Anthony Riley to throw to. The "why does Tyler Lawrence have a D1 offer while Derek doesn't?" argument. The undying support from the Olathe East student body. The glowing stud earrings. The Tony Soprano-esque red Chevy SUV with shiny rims that Miller cruised up and down Blackbob Road in. Quarterback. Safety. Kicker. Punter. Six-foot-three, 175 pounds. Brown. Brown. I figured a state title was just the next chapter in the book. Olathe East looked unstoppable through the playoffs, and stacked at every position. The outcome was shocker--and further proof that Hutchinson wasn't going anywhere.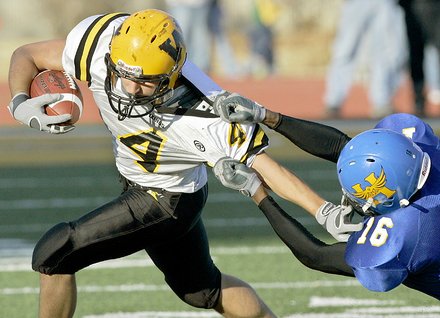 SM West's Ryan Wingers was oh-so-close to breaking
the grasp of the Hutchinson defender in this picture.
That, in a nutshell, was the story of the 2006 state title
game for SM West. Oh-so-close. AP.
2006
Hutchinson 21, SM West 14
SM West's special teams kept them in the game, despite the Vikings' three turnovers. Down 7-0, SM West's
Ryan Wingers
blocked a punt then scooped it and scored to tie the game at 7 at the half. Hutchinson scored on the first play of the third quarter on an 80-yard run, but SM West came back with a long kick return by
David Leonard
and a 13-yard touchdown run from
Blake Lawrence
. Hutchinson scored again in the third quarter and SM West wasn't able to match it.
My Thoughts
:
As many witnesses to this matchup can attest to, this was one of the hardest hitting games you'll ever see at the Kansas high school ranks. The real difference in this one was SM West's failure to score when driving into Hutchinson territory. In the second half SM West missed a field goal, turned the ball over on downs and lost a fumble, all in Hutchinson territory. A late-drive for victory also came up short. It's little solace, but after the game Hutchinson had nothing but compliments for how tough of a game it had been. I think there was a mutual respect earned that afternoon between both teams.
2007
Hutchinson 37, Olathe South 14
Olathe South, who got hot at the right time, found their way to the state title game with three losses, and for a half they looked pretty good. A 44-yard touchdown pass from
Mike Keese
to
Anthony Sanchez
and a 15-yard touchdown run from
Jake Byrd
tied things at 14 at halftime. Hutchinson proved to be too much in the second half, scoring 23 unanswered points and coming away with a fourth straight state championship. It was the last game for tenured Falcon head coach
Mark Littrell
, who left to take an assistant coaching position in Texas.
My Thoughts
:
This was my senior year and in week three we played and defeated Olathe South. Were they good? Yes. Were they Hutchinson good? No. I was actually shocked when they made a playoff run and reached the title game (SM Northwest, Olathe East and Olathe North all seemed like better teams that season). I think this was the final straw for Littrell. A third gut-wrenching loss in the state title game was kind of the "third times a charm" to leave to be an assistant in Texas. I was thrilled to see Hutchinson had won all four 6A during my four years in high school. Thrilled I tell you.
..
2008
Junction City 19, Lawrence Free State 14
This one left many Sunflower League brethren scratching their heads. Big bad Hutchinson was gone to 5A, yet the Sunflower League's state title drought continued. Free State couldn't break a big play to save their lives in this game.
Camren Torneden
found
Preston Randolph
on a 14-yard touchdown pass to tie the game in the third quarter but Junction City answered back with a touchdown pass of their own.
Chucky Hunter
added a one-yard score later in the fourth quarter (Hunter rushed for 116 yards and Torneden 96) to give Free State a 14-13 lead, but they couldn't hold it as Junction City scored late to win the game.
My Thoughts
:
Man, I was really rooting for Free State in this game. I'd watched the Firebirds defeat Blue Valley in an absolute thriller in the Sub-State game in Stilwell and I just felt like Free State had that extra something about them to win a title. The game was ugly, I think there was precipitation throughout. I kept waiting for Free State to use their speed to break the game open... and waiting... and waiting... but it never happened and Junction City won the title, West 6A's fifth in a row.
It should be noted that Junction City's top player was quarterback/safety Ty Zimmerman, also known as K-State's current starting free safety whose injury kept him out of the game against Baylor.
2009
Olathe North 37, Wichita Heights 3
The Sunflower League came back with a vengeance after missing out on a state title the previous five seasons. The game was never really in doubt, even though Olathe North only led 14-3 at halftime.
James Franklin
had a career afternoon in his final game as an Eagle, carrying the ball 32 times for 269 yards and three touchdowns. A week later he accepted the Simone Award, becoming the fourth Olathe North running back to win a 6A state title and the Simone in their senior year.
My Thoughts
:
After Olathe North defeated Blue Valley on a walk-off field goal in Sub-State I pretty much figured the title was theirs for the taking. Hutch was in 5A, and Wichita Heights entered with an 8-4 record. Plus Olathe North had Franklin and he was just a phenomenal back--had been since he was a sophomore. Not the biggest or the fastest guy, but he had a unique ability to elude bigger defenders then out-maneuver secondary players on the way to the endzone. He ran all over Wichita Heights that afternoon.
2010
Wichita Heights 48, Olathe North 14
This game was a rematch of the previous year's title game, and a complete dichotomy. Wichita Heights pounded the ball all afternoon, finishing with 531 yards of total offense including 499 rushing yards on the ground. The Falcons' 28-0 halftime lead was all you needed to know about how this one went. Olathe North scored a couple junk touchdowns in the third and fourth quarters, but it really made no difference. Wichita Heights was the class of 6A that year.
My Thoughts
:
Wichita Heights was still steaming from the previous year and Olathe North had grown a little too confident in their own abilities. The Eagles barely staved off Olathe East, 13-6, in the Sub-State game. When push came to shove Wichita Heights was the better team. As in 34 points better. I stand by the fact that 2010 was one of if not the worst season (in terms of talent, competitiveness, enjoyment to cover, etc.) in the Sunflower League since 2000. This game just proved the point.
Olathe South celebrated as it became evident they were
going to win the 2011 6A state title, the school's first state
championship in four tries.
2011
Olathe South 41, Wichita Heights 37
The combined 78 points were not by accident. Both teams featured high-powered offenses and the game was back and forth from the get-go. Defense basically went out the window in the first quarter, although there were a combined 10 fumbles (four lost). Wichita Heights racked up 565 yards of total offense (479 yards rushing and 86 yards passing) and Olathe South added 550 of their own (367 yards rushing and 183 yards passing). The star of the game was Olathe South running back
Jordan Ward
who rushed for 263 of those yards on 27 carries, including a game-winning touchdown with less than a minute left in the fourth quarter.
My Thoughts
:
This was the Kansas high school version of the 2005 Rose Bowl between Texas and USC. If you watched this game you were likely on the edge of your seat for its duration. I thought Olathe South was done when Wichita Heights was up 34-27 midway through the fourth quarter and close to scoring another touchdown. I knew Olathe South's defense wasn't going to be able to stop that juggernaut of an offense on consecutive possessions to tie it. Low and behold, it went something like Wichita Heights fumble, Frank Seurer to Drew Johnson 99-yard touchdown pass, Wichita Heights field goal, Ward last minute touchdown, Olathe South state title. Still one of the most exciting high school
football games I've ever seen
.