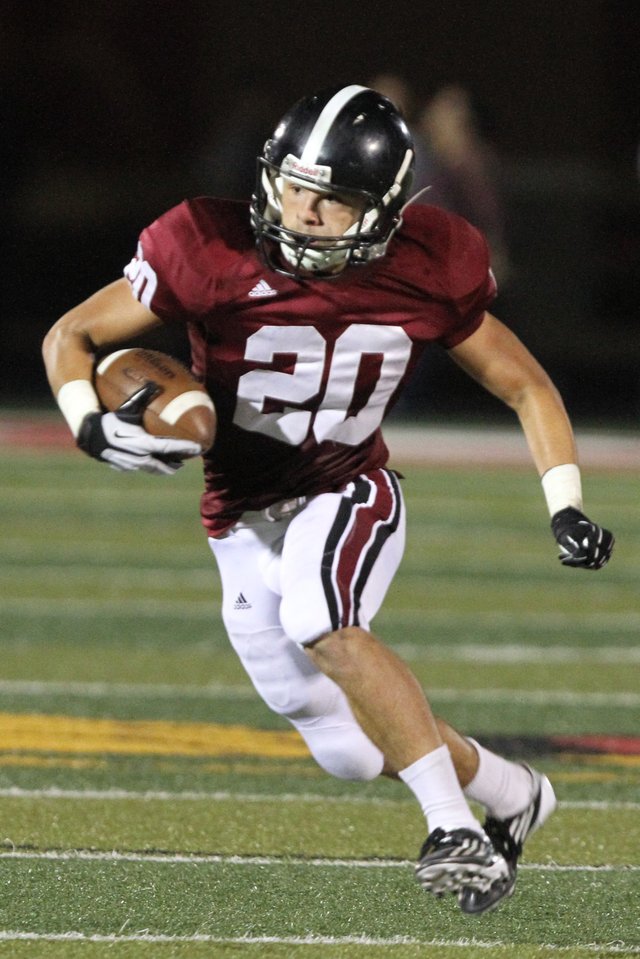 Will Thompson. LJWorld.
Surprise Teams
SM East
: I slotted the Lancers at seventh in my
Preseason Power Rankings
. It wasn't that I thought they'd be bad, it's just that the league looked stockpiled ahead of them and they didn't return a ton of experience. The Lancers proved to be the league's darling (no pun intended) for the first half of the season and finished at a very respectable 7-3.
SM West
: I had the Vikings slotted at fifth overall to begin the season, but they improved steadily and exceeded my preseason expectations. Exceeded is probably an understatement as they came away with the 6A title.
Surprise Players
Brett Sterbach, SM West
: Sterbach was solid a junior, rushing for just 1,059 yards and eight touchdowns. But it's hard to say anyone saw his 2,228-yard, 22-touchdown season coming this year.
Will Thompson, Lawrence
: There wasn't much talk of Thompson in the preseason and it's fair to say he came out of nowhere to have an extraordinary year. All told he caught 43 passes for 829 yards and six touchdowns in addition to making 43 tackles.
Highest Scoring Output
: Leavenworth dropped 62 points on the Wyandotte Bulldogs in week nine.
How the Top Storylines Played Out
Jordan Darling's transfer to SM East
: The Kansas commit played solid in his first and only season with the Lancers. He completed 62% of his passes for 1,553 yards and 11 touchdowns in helping lead SM East to its third winning season in as many years. On the flip side he didn't exactly dominate on a weekly basis they way it was thought he might be able to.
Gene Wier's return to Olathe North
: There were highs (beating Olathe South to make the playoffs) and there were lows (opening with four straight losses) but all in all Wier's return to Olathe North went about as expected. What's more, the team really developed its young talent which should pay dividends starting next season.
Olathe South's bid to repeat as 6A state champs
: Let's be honest--the Falcons had a Texas-sized target on their backs every time they laced 'em up. They were "rewarded" for their state title with one of the most tumultuous schedules in the league which included trips to Lawrence Free State, SM East and Lawrence in successive weeks, not to mention a road game at Gardner-Edgerton in week seven. They finished at 5-4 with no playoff bid. The inability to find replacements for their top speed players from 2011 (
Jordan Ward
,
Teddy Colbert
and
Drew Johnson
) and a tough schedule proved to be too much to overcome.
Top Storylines for 2013
The best crop of lineman talent the league has ever seen?
: Olathe South's
Braden Smith
is being courted by virtually every college football program in America. SM West's
Austin Chambers
has an offer from Kansas and probably several more on the way. Free State's
Fred Wyatt
has an offer from Northwestern, and like Chambers will probably see his offer list grow this offseason. Meanwhile, two other First Team All-Sunflower League picks in SM East's
Dominique Atkinson
and
SM West's
Lee Spight
return along the defensive lines and Lawrence's
Kyle Wittman
, a Second Team pick, returns on the offensive side
of the ball. We'll have some tremendous battles in the trenches to look forward to.
SM West's bid to repeat as 6A state champs
: The Vikings have a ton of returning talent but so did Olathe South this year and we saw how that turned out. The Vikes will experience what it's like to be the biggest game on every team's schedule. And then there's the million-dollar question: who steps in to replace
Brett Sterbach
?
How Lawrence responds to losing their talented senior class
: Names like
Brad Strauss
,
Erick Mayo
,
Kharon Brown
,
Drake Hofer
and
Will Thompson
, among others, will be gone with graduation. We'll quickly find out how well the Chesty Lions are prepared for football without their talented class of 2013.
Way-Too-Early Top Three for 2013
1.
SM West
: The Vikings return three First Team All-Sunflower League selections in
Austin Chambers
,
Andre Maloney
and
Lee Spight
, in addition to the rest of a roster which is loaded with talent and experience from the 2012 state championship run.
2.
Lawrence Free State
: First Team All-Sunflower League pick
Joe Dineen
will take over the quarterbacking duties leading a team that will undoubtedly be a contender for the state title again in 2013.
3.
Olathe North
: Head coach
Gene Wier
spent 2012 honing his team's young talent. They took some lumps early on but matured towards season's end. They should be able to parlay the experience into a dominant squad in 2013.
Way-Too-Early Top Three Player Ratings for 2013
1.
Joe Dineen, Lawrence Free State
: Dineen has been waiting for three years to take the reins at the quarterback position. He'll still be one of the league's top defensive backs, but the addition of starting at quarterback will make him a preseason Simone candidate.
2.
Venus Triplett, Olathe North
: A dominant running back from Olathe North? Haven't heard that one before... we'll see what kind of an impact Triplett can make in his second full season as the Eagles' top player.
Gene Wier
knows running backs.
3.
Andre Maloney, SM West
:
If he's not the league's fastest returning player he's definitely the most exciting. After making the All-State and All-Simone teams as a junior, Maloney is primed for a colossal senior year if he can continue to put on weight and gain strength in the offseason.